One cartoonist who probably could have his own skyscraper to run operations from is Albert Uderzo. With a new Asterix book on the way, the 78-year-old artist is showing up in one or two places:
Four-page report of Uderzo being fêted in Brussels for four days.
It's a safe bet that the new Asterix will again be criticized for weak writing. It's likely, if the cover art is any indication, that the art will also fall short of the standards of earlier books: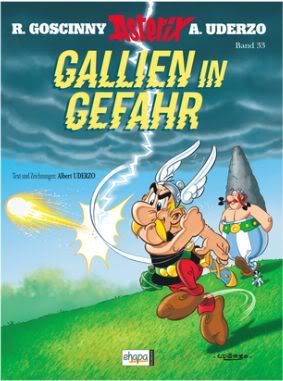 And it's a dead cert that the first-edition print run of the new book will once again exceed that of the last. The report cites a run of 8 million copies in 27 countries — if I remember correctly, the last one started with 6 million.
Many people with an above-average interest in comics resent this. They argue that Uderzo is pissing on René Goscinny's memory, that Asterix is only interesting anymore to collectors who want to keep their series complete, and that Uderzo should stop or that buyers would get more enjoyment out of buying some other comic instead. I've made all these arguments in the past. I will not make them anymore.
Uderzo still enjoys making Asterix. The public still enjoys buying it. The writing is only weak in comparison to Goscinny's – it's actually still written at a high, professional standard (likewise the cover art. It's a bit boring and the composition is off, but I've seen worse in the shops, oh yes). The difference between the new book's initial print run and the last one's isn't made up out of people who bought the entire series and became completists in the last two years; it's probably made up out of people who borrowed the other books and want to buy this one because it's more convenient.
Also Asterix is a major force in comics publishing. It's sold in supermarkets as well as bookstores; in spite of this, it will be sold in comics stores in large enough numbers to turn the year around for one or two retailers who might be in trouble right now. Even if I still believed that Asterix should stop for artistic reasons, I couldn't ignore that. That € 80 million turnover will be keeping people employed.
So let's have this new album, Albert! I for one won't buy it, but I can't fault ya for having another go.