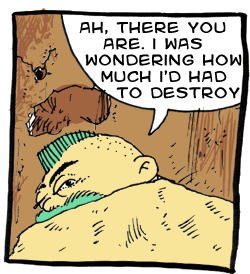 In 2006 I hardly drew any comics being rather preoccupied with making money. I've recently taken it up again with renewed vigor and one of the consequences is todays return of terribly weird sci-fi epic Cap'n.
The stats reveal there still has been a steady flow of visitors taking a peek if perhaps Cap'n hadn't secretly returned. I'm glad to say that it has and will be updating on Fridays for the time being. You may have lost track of the storyline after the one and a half year hiatus: the current storyline starts here.
I hope one day to be recognized for the bold and daring lack of unity in style, lazy artwork and unintelligable storyline. If anyone knows about such an award, please let me know.
In any case: hope you enjoy the return of Cap'n!